Coffee (x) = Enrollment Goal: #EMchat Guest Blogger @NL_Spencer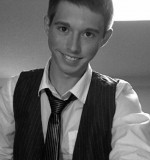 Nathan Spencer (

@NL_Spencer

) is in his first year of work in higher education. He is currently an Admissions Counselor at

Abilene Christian University

, in Abilene, TX. Originally from Missouri, Nathan primarily focuses on out-of-state recruiting. A world traveler and science nerd, he is interested in where diversity and innovation meet to form a better college experience. Nathan holds a B.S. in Psychology from Abilene Christian University.   Nathan is this week's #EMchat guest: "New to EM?" - join us on April 3rd at 9pm EST/ 8pm CST! 
Congratulations! You've just started your new job in enrollment management and must now begin working to achieve your enrollment goal and help "land" the class. Let's take stock for a minute. Business cards, check. Computer, check. Phone, check. Random desk objects, check. Now that you have all the essentials in place, time to get started!
I have now been an Admissions Counselor for 10 months or about 355.3 cups of coffee. Although this can seem like a very long time in enrollment management when you are new, I can still remember the feeling immediately after I sat down in my brand new office. Now what. Sitting now, in my slightly less new office, many cups of coffee later, I think I have an idea of how to succeed in enrollment management, care. 
That's a little simplistic I admit but I think it is what has allowed me to succeed so far and it's what I see in those veterans that have been in the field much longer than I have. It's often said that enrollment management is a a "2 or 20" field and I think caring is what makes the difference. I care about the general goal of helping connect people with great educational experiences. I care about using my specific university to help give people that great educational experience and I care about helping the individual student find there way to the perfect college fit. 
The fact that I care does not make me a better person, it just means that I have the extraordinary opportunity to love what I do. Because of that, I feel confident in my ability to succeed. As I continue along in the enrollment management world, I hope I never lose that and I hope that my fellow rookies won't either. 
401.5 by the way. That's how many cups of coffee I anticipate it will take to help me reach my enrollment goal. A whole lot of coffee topped with some care, that's what it is going to take. So, what's it going to take to get you to your goal?  
---
Nathan is this Thursday's #EMchat guest: "New to EM?".  Join us April 3, 2014 at 9pm EST / 8pm CST -- use the hash: #EMchat.